SPH Music Masters Finale
Bus timetable:
15:25 Uhr Reinach Migros parking
15:30 Uhr Beinwil am See trainstation
15:35 Uhr Birrwil «Seebrise» (opposite trainstation)
15:40 Uhr Boniswil Restaurant Deliziosa (after roundabout Seon)
15:45 Uhr Seon trainstation
15:55 Uhr Lenzburg trainstation
16:30 Uhr arrival in Zurich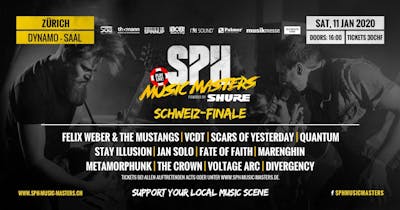 Be part of the great final!
See how Switzerlands best newcomers battle at the legendary «Dynamo» in Zurich. A handful of bands have qualified for the great final after 18 rounds. We will be part of it—and you, a man of rock-culture, will hopefully be as well.
Voltage Arc: the young hardrock band, based in the beautiful aargauer Seetal roll up their sleeves for the final show. 🤘🏼🤘🏼 With your support, we can possibly win this game! So come on, bang your head with us!
Voltage Arc – the way to the final show
Countless hours of preparation finally pay out. The way to the final show was long—but successful.
First round at Sedel, Emmenbrücke (winner 🥇)
City final at Sedel, Emmenbrücke (winner 🥇)
Region final at Treibhaus, Luzern (winner 🥇)
Semi final at Dynamo, Zürich (qualification for the final 🎖)
You get a taste of our live show by watching our latest video.