Available here:
The Video
Liters of sweat and months of hard work went into our first single. Dozens of people have been involved and supported us to create something truly unique. Countless appointments had to be organized, the band members Toni, Julian, Merlin and Timon have been tested by this project multiple times. But all this has payed off.
We proudly present our craft: FOR ROCK AND ROLL!
The creation
When we started searching for a suitable location, we stumbled across the TaB in Reinach, Switzerland. It offers a reasonably sized room with good acoustic – the ideal spot for recording.
So the TaB actually is a theater. Therefore it features a stage, a bar, sound systems and so on. Nearly everything required for a concert.
"Why don't we organise a concert then?". Merlins spark of a thought immediately lit the fuse and cause a massive wildfire in the minds of the other band members. "And we could also record a video simultaneously!".
This decision marks a milestone in the bands young history. The concert at the TaB would be the first event, organised by the band itself.
And it required a lot of organisation from the bands part: sound- and light engineers, camera crew and barkeepers, a 6 meter wide backdrop with our logo printed on, ear plugs, snacks, a range of carefully selected drinks and more.
But we coped with this absolutely new situation and on the 27th of July 2019—one day before the big recording and the great concert—we were ready.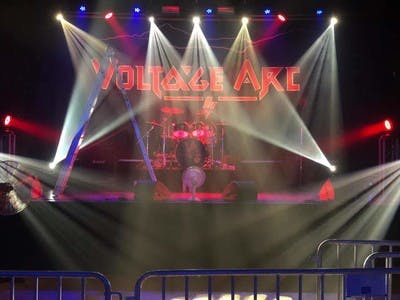 Thanks
For Rock And Roll would've never been possible without the massive support we received from each and every side. More than a dozen people helped wholeheartedly to ensure the success of this story.
A massive thank you goes out to every single one who helped us create the single as well as the video:
Toni Watzinger
Audio recordings and editing (mixing and mastering included)
Miro Haller
Camera, video editing
Simon Freiermuth
Camera
Caroline Laville
Camera
Clo Bisaz
TaB owner, coordination and contact person
Marianne Gautschi
Administration and head of the bar at TaB
Jonas Müller
Sound engineering
Benno Vogler
Head of sound engineering at TaB
Kim Maurer
Photography of the cover
Anita Baumann
Barkeeping
Cheyenne Käppeli
Barkeeping
Gian Biswas
Barkeeping
Joel Frei
Ticket sales and entry control
Michael Lindenmann
Security
Team der Jöly's Vermietung GmbH
Light effects
We'd like to give special thanks to Toni Watzinger, Miro Haller and Teddy Eichenberger, as they had a deep impact on the outcome of this project. Without Toni there wouldn't be any sound, without Miro there wouldn't be a video and without Teddy there wouldn't even be a band named Voltage Arc.
Furthermore we'd like to thank the TaB Reinach for providing the facilities and supporting us young, local musicians. The whole team did an amazing job. This includes the smooth coordination and communication with Clo Bisaz, the efficient and precise handling of all administrative works by Marianne Gautschi as well as the flawless and helpful support by Beno Vogler.